EXPERIENTIAL LEARNING (UofC)
What is it?

Eexeriential Learning (EL) is learning-by-doing that bridges knowledge and experience through critical reflection. Using intentionally designed and assessed activities, EL enables students to increase understanding, challenge and advance perspectives, clarify values, develop and hone their skills, and promote new ways of thinking and doing.
Who is it for?
Instructors at the University of Calgary.
What can it do?
High quality experiential learning experiences align with the PEAR framework:
Pedagogy

Experience

Assessment

Reflection
The Experiential Learning Plan for the University of Calgary (2020-25) identifies five categories and 28 EL activities. These are types of EL when they contain all components of the PEAR:
Co-Curricular EL (CCEL)
Competitions, accelerators, incubators, on-campus employment, professional development programs, supported volunteer experiences, among others
Community-Engaged LEarning (CEL)
Community-based research, Knowledge-Keeper guided learning experiences, ceremonial-based learning experiences, co-curricular community engaged learning, among others

Curriculum-Integrated EL
Case studies, creative performance, entrepreneurship courses, experimentation, field schools, cross-cultural learning experiences, role plays, among others
Research-Based EL
Course-based, faculty-led or individual research projects, Research assistantships, among others
Work-Integrated Learning (WIL)
Cooperative education, internships, professional clinical practice (including practica)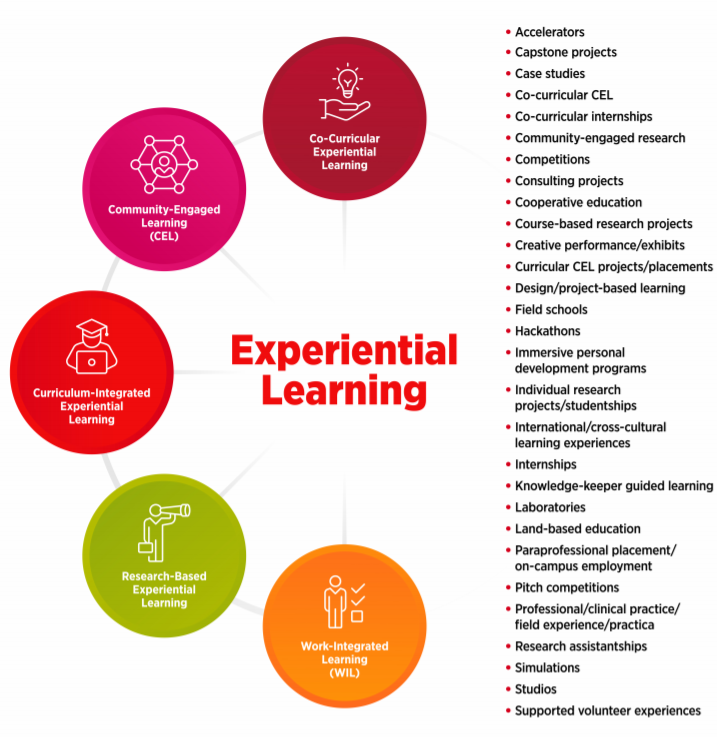 Is it University approved?

This resource is provided by the the Vice-Provost (Teaching and Learning) and the Taylor Institute for Teaching and Learning at the University of Calgary.